Blur (Vol. 1)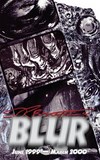 Welcome to the first of four volumes collecting the complete weekly "Video Views" columns (1999-2001) by renowned cartoonist, author and film scholar Stephen R. Bissette...

S.R. BISSETTE'S BLUR (VOL. 1)
cover by Stephen R. Bissette; design by Jon-Mikel Gates

US$20.95/GBP 12.99
5x8 tpb, 256 p.
ISBN-10: 1-934543-24-1
ISBN-13: 978-1-934543-24-5

It's easy to blister Adam Sandler, Runaway Bride, David Spade and clinkers like Jack Frost, The Haunting remake, Stigmata and Bats ("...by the time the leads are up to their nipples in a lake of bat guano, you'll realize you've been wading in the same for over an hour, and it's getting mighty deep"). It's a piece of cake to sing the praises of popular hits and cult faves like The Matrix, Run Lola Run, The Sixth Sense, Election, Bowfinger, American Pie, The Red Violin and South Park: Bigger, Longer & Uncut.

But Bissette went further. He bucked critical status quo with his affection for despised films like The Rage: Carrie 2, Teaching Miss Tingle, Stanley Kubrick's Eyes Wide Shut and Alan Rudolph's adaptation of the late Kurt Vonnegut's Breakfast of Champions. Renowned for his work as an artist, writer, publisher and writer (Swamp Thing, Taboo, Tyrant, Deep Red, Video Watchdog, The Monster Book: Buffy the Vampire Slayer, The BFI Companion to Horror, Underground USA, etc.), he brought unique insights to his 'industry insider' view of "comicbook movies" like Mystery Men and analysis of animated features like The Iron Giant, Yellow Submarine, Walt Disney's Tarzan, Pokemon and the anime invasion.

Here, too, are Bissette's "Creeper Sleepers" Halloween horror movie overviews, in-depth essays on underground filmmaker Maya Deren, the breakthrough success of fundamentalist Christian horror movies with The Omega Code, the 1999 Blair Witch phenomenon and its unfairly neglected inspiration The Last Broadcast. Along with his picks of the best horror movies available on video and DVD, the satiric holiday "Woodchuck Video Turkey Feasts" offers hilarious odes to the worst Thanksgiving and Christmas movies of all time -- 'must see' or 'must avoid' picks, depending on your orientation to home entertainment.

Read about the underrated sleepers -- Arlington Road, The 13th Warrior, The Castle, Pirates of Silicon Valley, Broken Vessels, A Stir of Echoes, Joe the King, The Brandon Teena Story, Best Laid Plans, The Best Man, Desert Blue -- the overlooked foreign films -- Abre Los Ojos (Open Your Eyes), Ba Mua (Three Seasons), Los Amantes del Circulo Polar (Lovers of the Arctic Circle), Perdita Durango (Dance with the Devil) -- and already-forgotten curios like Freeway 2: Confessions of a Trick Baby, The Naked Man, Free Money, Trekkies, The Dead Hate the Living and The Highwayman.

Here is the 'blur' of Bissette's comprehensive weekly columns covering the endless flow of video and DVD releases from June 1999 to March 2000. He brings uncanny focus to everything he writes about, as this collection proves.