Blur (Vol. 4)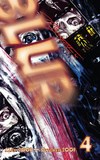 S.R. BISSETTE'S BLUR (VOL. 4)
cover by Stephen R. Bissette; design by Jon-Mikel Gates

The fourth volume collecting the complete weekly "Video Views" columns (1999-2001) by Stephen R. Bissette covers May to October 2001, and miscellaneous video & DVD-related articles from this period -- plus an index for the entire four volume set, making this highly-entertaining read into an essential research tool.

US$20.95/GBP 12.99
5x8 tpb, 228 p.
ISBN-10: 1-934543-58-6
ISBN-13: 978-1-934543-58-0

On the UK miniseries Traffick vs. its feature film adaptation Traffic: "By skirting the spidery source of all the corruption, collusion, addiction, denial, and betrayal at the heart of its web, the feature film version of Traffic cut itself from the root of all evil exposed in Traffick..."

On The Wedding Planner: "...the entire confection exists to stretch the seemingly irreconcilable situation between these star-crossed lovers to the breaking point. I squirmed through every agonizing moment of the prolonged syrup, angst and tedium..."

On Snatch: "To my mind, [director] Guy Ritchie perfectly translates [Dick Tracy cartoonist Chester] Gould's dark universe to celluloid, with an ingratiating wit, vigor and savagery guaranteed to put off the squeamish and faint-hearted."

On Dude, Where's My Car?: "Dude, where's my movie?"

As the Millennium unfolded, Bissette continued to write about the true indy films (Home to Tibet, Butterfly, Radio Free Steve, etc.), including interviews with the filmmakers. Here are the already-forgotten gems (See the Sea, The Pledge, Alex Winter's Fever), the resurrections (the Esperanto opus Incubus), revivals (Akira, Blood Simple, City on Fire) and rehashes (Dracula 2000, Driven), the masterpieces (O Brother Where Art Thou?, Memento, Crouching Tiger Hidden Dragon, You Can Count on Me, Once Upon a Time in China I and II, etc.) and misfires (Shadow of the Vampire, Cast Away, State and Main, Sweet November, Monkeybone, Valentine, Blow Dry, etc.).

Along the way, Bissette also illuminated the virtues of Steven Seagal thrillers ("...most entertaining for their utterly deadpan absurdities..."), crafted expansive essays like "For Love of Cinema" ("...Miramax has calculated, with surgical precision, how to titillate the 'alternative' taste buds, and do so here with singular, shameless hucksterism. Here we are, a generation of Truffaut, Kurosawa and Bergman aficionados, played like rubes at the carny..."), and scribed a loving ode to Hannibal, "the Bush Era Bogeyman We Deserve."

Week after week, the renowned artist, editor, publisher, writer, scholar and critic applied his pen, passion and expansive pop cultural knowledge to the 'blur' of video and DVD releases. His relentless focus prompts us to see these -- and all -- movies in new ways.