Green Mountain Cinema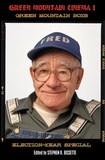 GREEN MOUNTAIN CINEMA: GREEN MOUNTAIN BOYS
edited by Stephen R. Bissette
photo cover by Jack Rowell

Welcome to the first publication dedicated to Vermont and New England movies and video.

For over a century, motion-picture cameras have been cranking and whirring in Vermont, and never more than today. As the digital revolution spawns a renaissance in regional filmmaking, Green Mountain Cinema aims to inform, entertain, and enlighten, opening your eyes to this remarkably diverse world. There's a lot more to it than just covered bridges, maple syrup, and fall foliage, as demonstrated by this debut volume's election-year focus on political films, from agitprop to docudramas to satires.

US$22.95/GBP 14.99
6x9 tpb, 224 p.
ISBN-10: 1-932983-29-5
ISBN-13: 978-1-932983-29-6

Step right up and see Man With A Plan, Da Speech, The Year That Trembled, And All This Madness and others. Meet Fred Tuttle and Captain Kangaroo, Rusty and Redbelly; Welcome to Windy Acres, but get ready to bust Walmart.

Illustrated with over 100 photos while offering the latest news on films in production and the hottest new DVDs releases, it's all waiting here for you.

F E A T U R I N G:
The Compleat Fred Tuttle Speeches
Lovin' the Logger: Rusty DeWees
The Experimental Films of Brigette Blood
John Douglas Take(s) on Da Speech
Simon Stockhausen Speaks
Jay Craven on Jonathan Brandis
Plus: The Year That Trembled,
Pursuing Happiness, Talking to the Wall,
My Mother's Early Lovers, and more...