The Heads That Fell in Paris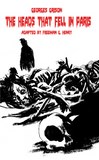 THE HEADS THAT FELL IN PARIS
by Georges Grison
adapted by Freeman G. Henry
cover by Daniele Serra

It took him less than a quarter of a second following the release of the blade to twist his neck convulsively and move his head to the right a fraction. The blade struck him at the base of the skull. At the repulsive sight of it people stepped back aghast.

US$22.95/GBP 14.99
5x8 tpb, 274 pages
ISBN-13: 978-1-61227-501-7

In 1810 the French bade good-bye to torture, including whipping and the rack. Beginning in 1832 those convicted of parricide no longer needed suffer the amputation of their right hand before being put to death. Death by guillotine, however, endured until 1977, despite the opposition of Victor Hugo, his son Charles, and many others to follow.

The Heads that Fell in Paris by Georges Grison, a crime reporter for Le Figaro (France's longest running newspaper), provides an insider's view of the executions that took place during the early years of the Third Republic. His eyewitness accounts follow the process from the police investigations into the courtroom and beyond, into the cells of La Roquette prison where the condemned were incarcerated, and, ultimately, onto the adjoining square where the storied instrument of death awaited them. Along the way he underscores his misgivings concerning the future of the death penalty as well as the fears and concerns of the prisoners themselves, the executioners, law-enforcement agents, and the chaplains who were charged with comforting misguided souls.

Freeman G. Henry, Distinguished Professor Emeritus at the University of South Carolina, is a writer/scholar, translator, published poet, and novelist.Contents:
Souvenirs de la Place de La Roquette, Dentu, 1883.
Introduction, Appendix and Notes by Freeman G. Henry.