Chalet in the Sky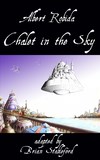 NOTE: YOU ARE PURCHASING AN E-BOOK, NOT A PAPER BOOK. WHEN ORDERING, PLEASE SPECIFY IN THE COMMENTS IF YOU PREFER A PDF OR AN EPUB FILE. THE FILE WILL BE E-MAILED TO YOU AS SOON AS PAYMENT IS RECEIVED.


CHALET IN THE SKY
by Albert Robida
adapted by Brian Stableford
cover by Eric Lorin

"The world is becoming uninhabitable, alas. Our planet is being sabotaged. No solidity anywhere, in Europe and America, or in the scarcely-tranquil hidden corners of Central Africa. The perforated, worn-out soil, creviced in all directions by quakes, subsidence, shocks and slippages, former mines collapsed or invaded by subterranean seas, fo-rests destroyed…. I'm not making recriminations; doubtless the imprudence of our ancestors is to blame, but our globe is getting old as well, and it's aging terribly badly."



The father of science fiction illustration, and the author of The Clock of the Centuries and The Adventures of Saturnin Farandoul, Albert Robida (1848-1926), was the most significant of all of Jules Verne's successors.

In A Student in 1950 (1917), Robida returns to his fictional world of 1950 that he introduced in his classic The Twentieth Century (1883) and pens an exciting "Boy's Adventure," featuring the teenage students of the pseudo-futuristic School of Chambourcy, an amusing predecessor to Harry Potter's Hogwarts.

In Chalet in the Sky (1925), Robida's last novel and literary "swan song," the author boldly steps forward into the far future when Man has emigrated to other worlds and he depicts the travels of a colorful cast of characters aboard their aerial villa above a bleak and exhausted Earth.

Contents:
Un Potache en 1950 [A Student In 1950] (1917)
Un Chalet dans les Airs [Chalet in the Sky] (1925)
Introduction and Notes by Brian Stableford.