The Castaways of Eros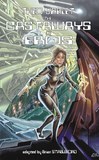 NOTE: YOU ARE PURCHASING AN E-BOOK, NOT A PAPER BOOK. WHEN ORDERING, PLEASE SPECIFY IN THE COMMENTS IF YOU PREFER A PDF OR AN EPUB FILE. THE FILE WILL BE E-MAILED TO YOU AS SOON AS PAYMENT IS RECEIVED.


THE CASTAWAYS OF EROS
by Théo Varlet
adapted by Brian Stableford
cover by Jean-Félix Lyon

At that moment, we represented the genius of human beings and the Earth before that court, the elite of a planetary civilization of evolved lizards that was at least the rival of ours.

Aurore Lescure, the first woman astronaut, who starred in The Xenobiotic Invasion, returns in this ground-breaking novel about the first successful interplanetary flight to the planetoid Eros. There, the intrepid explorers discover that evolution on Eros has taken a different turn than on Earth, producing a species of intelligent dinosaurs...

The notion of a Japanese-financed rocket piloted by a French female astronaut was a radical one in 1932, when this daring and original novel was written. With The Castaways of Eros, Théo Varlet hoped to promote the potential of rocket technology to launch a "Space Age" of interplanetary colonization. Sadly, the advent of WWII and his untimely death in 1938 put an end to that dream, leaving only this remarkable roman scientifique as a witness to a future that never was.

Contents:
- Aurore Lescure, pilote d'astronef [Aurore Lescure, Spaceship Pilot] (written 1932; publ. 1943)
Introduction and Notes by Brian Stableford.