The Return of Captain Vampire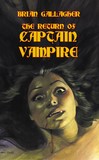 NOTE: YOU ARE PURCHASING AN E-BOOK, NOT A PAPER BOOK. WHEN ORDERING, PLEASE SPECIFY IN THE COMMENTS IF YOU PREFER A PDF OR AN EPUB FILE. THE FILE WILL BE E-MAILED TO YOU AS SOON AS PAYMENT IS RECEIVED.
THE RETURN OF CAPTAIN VAMPIRE
By Brian Gallagher
based on the character created by Marie Nizet
Afterword by Brian Stableford
Cover by Mike Hoffman
"I offer power and security to our kind. Dracula offers nothing!"

Marie Nizet's vampire novel Captain Vampire (1879) has remained unfairly neglected for more than a century. Rediscovered by Romanian historian Radu Florescu, some have speculated that it may have influenced Bram Stoker's Dracula (1897). Both a war novel and a supernatural epic, Captain Vampire has now become a classic of fantasy literature.

Brian Gallagher continues the adventures of its protagonist, Russian Captain Boris Liatoukine, who, in his time, terrorized Romania. From 1830 to the near future, Brian narrates the exploits of this intrepid vampire whose path will cross, at various times, those of Dracula, Carmilla, the Vampire City, KGB killers and Western secret services.

Brian is also a regular contributor to Tales of the Shadowmen, where the Captain Vampire stories gathere in this collection were first published..

CONTENTS:
Foreword by Brian Gallagher
The City of the Nosferatu.
The Trial of Van Helsing.
The Stake and the Sickle
The Vampire of Berlin.
The Death of Von Bork.
The Skull of Boris Liatoukine
President Vampire
Afterword