Harry Dickson: The Heir of Dracula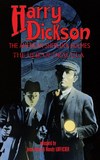 NOTE: YOU ARE PURCHASING AN E-BOOK, NOT A PAPER BOOK. WHEN ORDERING, PLEASE SPECIFY IN THE COMMENTS IF YOU PREFER A PDF OR AN EPUB FILE. THE FILE WILL BE E-MAILED TO YOU AS SOON AS PAYMENT IS RECEIVED.


HARRY DICKSON The American Sherlock Holmes: THE HEIR OF DRACULA
From The Secret Files of The King of Detectives
adapted by J-M. & R. Lofficier
cover by J.-M. Nicollet

Miloska, white as a sheet, pressed herself against the portrait of the saint as if she was begging for her protection. From out of the brush, a man slowly approached her. A man! No, it was a wraith! It had a dark, hate-filled face in which burned two hideous red eyes!
"The man from the portrait," muttered Tom Wills.
"Count Ion Nedelcu Dragomin, the Heir of Dracula, the Red-Eyed Vampire!" said Dickson.


When inhuman monsters walk the Earth, threatening the good and the helpless, Justice has no stronger defenders than Harry Dickson and his assistant Tom Wills, who fight the forces of evil and cast them back into the Darkness from whence they came.

Harry Dickson began as an unauthorized Sherlock Holmes pulp series in Germany in 1907, before changing its name and morphing into a hugely popular saga in Holland, Belgium and France, with 178 issues published between 1927 and 1938, especially after it was entrusted to the editorship of Belgian horrormeister Jean Ray.

This volume includes three original episodes and one short story:

The Heir of Dracula: From the rat-infested swers of Limehouse to the dark forests of Bavaria, Dickson hunts for the mysterious red-eyed vampire, Count Dragomin.
The Iron Temple: Deep beneath London, monstrous creatures engage in bloody sacrifices in their amazing, futuristic lair.
The Return of the Gorgon: A beautiful but deadly woman who may be a reincarnation of Medusa has the power to turn men to stone.
The Curse of the Crimson Heart: Meet Dickson's mentor, armchair detective Mortimer Triggs.

This famous Holmesian pastiche has been translated by award-winning authors Jean-Marc & Randy Lofficier and includes original cover illustrations and a foreword about the Harry Dickson phenomenon.

Contents:
Introduction and Harry Dickson Timeline by Jean-Marc & Randy Lofficier
Le Vampire aux Yeux Rouges (The Heir of Dracula): Harry Dickson No. 81 (January 1933).
Le Temple de Fer (The Iron Temple): Harry Dickson No. 93 (July 1933).
La Résurrection de la Gorgone (The Return of the Gorgon): Harry Dickson No. 163 (January 1937).
Les Idées de Mr. Triggs (The Curse of the Crimson Heart) in Harry Dickson No. 152 (February 1936).