The Green Gods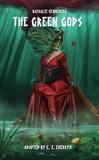 NOTE: YOU ARE PURCHASING AN E-BOOK, NOT A PAPER BOOK. WHEN ORDERING, PLEASE SPECIFY IN THE COMMENTS IF YOU PREFER A PDF OR AN EPUB FILE. THE FILE WILL BE E-MAILED TO YOU AS SOON AS PAYMENT IS RECEIVED.


THE GREEN GODS
by Nathalie Henneberg
adapted by C.J. Cherryh

cover by Anne-Claire Payet

The most precious plants, the most delicate, had themselves carried on crystal thrones by men of noble blood. Thrones… no, vats, cubes filled with transparent rose fluid, in which white and green filaments writhed. These were the truly strange ones, resembling jewels, or lips. They bore ancient names which had ceased long ago to have meaning for anyone; they were as beautiful as women or as terrible as nightmares. But all were flesh-eaters…

Les Dieux Verts [The Green Gods] (1961) tells of the romance of Prince Aran and Atlena during the Emerald Age of the Earth, in the far future, when Man's Empire is on the decline and the world is ruled by the eponymous "Green Gods," powerful entities which arose from the vegetal kingdom.

The works of Rosny Award-winner Nathalie Henneberg (1917-1977) stand alone in the French SF landscape of the 1960s. Her use of the language, betraying Germanic and Russian influences, was unusually well-suited to creating larger-than-life heroic characters and epic, mythological romances. Her skills at creating intricately detailed baroque universes was second to none.

This new edition translated by Hugo Award winner C.J. Cherryh also includes four Henneberg stories translated by SF Grand Master Damon Knight and an introduction by French SF scholar Charles Moreau.

C.J. Cherryh, is a Hugo Award winning science fiction and fantasy author who has written more than 60 books since the mid-1970s, many set in her Alliance-Union universe.

Contents:
- Introduction by Charles Moreau
- The Green Gods [Les Dieux Verts] (1961) by Nathalie Henneberg; trans. by C.J. Cherryh
- The Non-Humans [Les Non-Humains] (1958) by Nathalie Henneberg; trans. by Damon Knight
- The Blind Pilot [Au Pilote Aveugle] (1959) by Nathalie Henneberg; trans. by Damon Knight
- Moon-Fishers [Pecheurs de Lune] (1959) by Nathalie Henneberg; trans. by Damon Knight
- Ysolde [Ysolde] (1960) by Nathalie Henneberg; trans. by Damon Knight
- Bibliography
READ THE REVIEWS...
it's the novel readers will remember. Its world of cactus soldiers, gigantic underground orchids and bloated, malignant peyotls is the stuff of oppressive, overactive summer nightmares.
Stephen Theaker