Sherlock Holmes and The Circle of Blood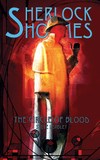 NOTE: YOU ARE PURCHASING AN E-BOOK, NOT A PAPER BOOK. WHEN ORDERING, PLEASE SPECIFY IN THE COMMENTS IF YOU PREFER A PDF OR AN EPUB FILE. THE FILE WILL BE E-MAILED TO YOU AS SOON AS PAYMENT IS RECEIVED.


SHERLOCK HOLMES AND THE CIRCLE OF BLOOD
by Steve Leadley
cover by Daylon

"Spiritualism has become a religion to many, and although I do not doubt that I could determine how the mediums perform their trickery, it would be a worthless endeavor that would serve no constructive purpose."
Sherlock Holmes.

The Circle of Blood:
One of Cape May's most prominent citizens has been the victim of a brutal and mysterious murder. A bizarre and cryptic message lies adjacent to the body: a bust of Socrates circled in blood. The police are baffled since nothing appears to be missing from the house, and the man is reported to have had no enemies. Holmes and Watson agree to go to the nation's oldest resort to investigate.

The Highland Intrigue:
Watson receives a letter from an old comrade asking for assistance. His uncle, the Duke of Montrose, has died in an "indelicate" manner. Holmes and Watson journey to Fintry Castle in Scotland to investigate. The problem turns out to be much deeper than first expected and not only involves murder, but a historical mystery seeped in Scottish folklore.

The Medium Problem:
Watson learns that a medium and a confederate are conducting séances in London. She is gaining a following, capitalizing on the Spiritualist movement that has taken root. Watson sees the séances as fraud and implore Holmes to expose the pair, but the detective remains disinterested until the medium recovers a stolen diamond through her alleged supernatural powers...

Steve Leadley has been a teacher of American History for fifteen years and has a Masters Degree in the Humanities with a concentration in History. He has written three other books including Wilson and Clemenceau at the Versailles Peace Conference, the political thriller Conundrum, and a children's mystery adventure Pirate Treasure of Cape May.

Contents:
Foreword by Steve Leadley
The Circle of Blood by Steve Leadley
The Highland Intrigue by Steve Leadley
The Medium Problem by Steve Leadley