Sherlock Holmes and The Grand Horizontals (Stage Plays)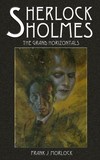 NOTE: YOU ARE PURCHASING AN E-BOOK, NOT A PAPER BOOK. WHEN ORDERING, PLEASE SPECIFY IN THE COMMENTS IF YOU PREFER A PDF OR AN EPUB FILE. THE FILE WILL BE E-MAILED TO YOU AS SOON AS PAYMENT IS RECEIVED.


SHERLOCK HOLMES: THE GRAND HORIZONTALS AND OTHER STAGE PLAYS
by Frank J. Morlock
cover by Philippe Jozelon

Dear Mr. Holmes:
I've learned you are coming to Paris; please do not meddle in my affairs, I should be most upset and the consequences might be very unpleasant.
Fantômas.


This collection of seven original Holmesian plays, never before published in book form, features the Great Detective's encounters with none other than Fantômas, the French Lord of Terror, Count Dracula, Father Brown, Theodore Roosevelt and more.

Renowned playwright and translator Frank J. Morlock also adapted Lord Ruthven the Vampire, The Return of Lord Ruthven, the Arsène Lupin vs Sherlock Holmes stage play and Frankenstein Meets the Hunchback of Notre-Dame for Black Coat Press.

READ THE REVIEWS:

Contents:
The Grand Horizontals
The Adventure of Merlin's Tomb
The Adventure of the Mulberry Street Irregular
The Man Who Fell From Heaven
Clash of the Vampires
The Silent Treatment
The Curious Circumstance of the Maid's Mustache
READ THE REVIEWS...
Black Coat Press has published Sherlock Holmes: The Grand Horizontals, a collection of short plays by Frank J Morlock, who adapted Arsène Lupin vs Sherlock Holmes: The Stage Play into English. The title play, which would be fun to stage, pits Holmes against the super-crook Fantômas and involves two notorious real-life courtesans of the period, Caroline Otero and Liane de Pougy. Both, I think, feature in Michael Harrison's book A Fanfare of Strumpets — but the literal translation of the phrase Les Grandes Horizontales seems rather clumsy. In The Tomb of Merlin Holmes meets the young Father Brown, but the author seems ignorant of the situation and organisation of the Roman Catholic church in Victorian England; and Essex transmutes into Derbyshire for no apparent reason. I prefer The Mulberry Street Irregular (Holmes and Teddy Roosevelt) and The Silent Treatment, which isn't really a Holmes piece at all, but should work very effectively as a dramatisation of Poe's The Tell-Tale Heart.
The District Messenger