Starmasters' Gambit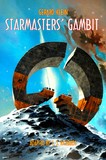 NOTE: YOU ARE PURCHASING AN E-BOOK, NOT A PAPER BOOK. WHEN ORDERING, PLEASE SPECIFY IN THE COMMENTS IF YOU PREFER A PDF OR AN EPUB FILE. THE FILE WILL BE E-MAILED TO YOU AS SOON AS PAYMENT IS RECEIVED.
STARMASTERS' GAMBIT
by Gérard Klein
adapted by C. J. Richards
cover by Manchu
"Who are you," he asked in his cracked voice, "that you should have in your possession the chessboard of the Masters? During the course of my long life, I've only seen it three times."

He was thirty-two years old. His name was Jerg Algan. He had done little but kill time on Earth, with no purpose. Then, one day, he was forced to leave the cradle of humanity and travel to the furthest reaches of space, to a strange planet where lay vast black citadels, like gigantic chess pieces erected on the squares of an unimaginable board... And Jerg Algan embarked upon the final phase of his journey: the starmasters' gambit... Gérard Klein is a distinguished economist and one of France's best science fiction writers. He also edited the prestigious science fiction imprint, Ailleurs et Demain, for 40 years. Foreword by Robert Silverberg.
cier.
Contents:
- Foreword by Robert Silverberg
- Starmasters' Gambit [Le Gambit des Etoiles] (1958); transl. by C. J. Richards