The Story of the Great Prince Oribeau (The Fay Ouroucoucou 1)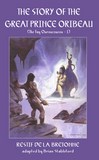 NOTE: YOU ARE PURCHASING AN E-BOOK, NOT A PAPER BOOK. WHEN ORDERING, PLEASE SPECIFY IN THE COMMENTS IF YOU PREFER A PDF OR AN EPUB FILE. THE FILE WILL BE E-MAILED TO YOU AS SOON AS PAYMENT IS RECEIVED.


THE STORY OF THE GREAT PRINCE ORIBEAU (The Fay Ouroucoucou 1)
by Nicolas-Edmé Restif de la Bretonne
adapted by Brian Stableford
cover by Mike Hoffman
"I am a fay, and unfortunate, in spite of my power, for having always resisted amour. I refused to marry the genius Perforimoth the Black!"

Nicolas-Edmé Restif de la Bretonne (1734-1806) produced over 180 books, totaling some 57,000 pages, many of them printed by his own hand, on almost every conceivable subject. Praised in Germany, he was mostly forgotten in France until being rediscovered by the Surrealists in the early 20th century. Several of his most important works are being presented here for the first time in English.
The Story of the Great Prince Oribeau, King of Mommonia, in the country of Evinland, and the Virtuous Princess Oribelle of Lagenia; extracted from the ancient annals of Ireland and recently translated into French by Nicholas Donneraill of the County of Cork, descendant of the author, to use its full title, was first published in four volumes in 1785

In addition to narrating the educational journeys of Prince Oribeau and his mentor O'Barbo, the book features three separate fairy tales, "Mellusine", "Sireneh" and "The Fay Ouroucoucou," connecting the genealogy of the fay to the imaginary history of the story, and the known history of the world, in a fashion that is as ambitious as it ultimately becomes ambiguous.

The book also provides a detailed account of the metaphysics of Faerie, explaining its location and its contiguity with the perceived world. "Mellusine" and "Sireneh" are transfigurations of well-known legends, while "The Fay Ouroucoucou" is an allegorical apologue similar to the dream stories of Louis-Sébastien Mercier.

Contents:
Les Veillées du Marais ou Histoire du grand Prince Oribeau Roi de Mommonie, au pays d'Evinland & de la vertueuse Princesse Oribelle de Lagenie (1785)
Introduction, Afterword and Notes by Brian Stableford.