The Murdered City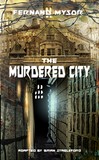 NOTE: YOU ARE PURCHASING AN E-BOOK, NOT A PAPER BOOK. WHEN ORDERING, PLEASE SPECIFY IN THE COMMENTS IF YOU PREFER A PDF OR AN EPUB FILE. THE FILE WILL BE E-MAILED TO YOU AS SOON AS PAYMENT IS RECEIVED.

THE MURDERED CITY
by Fernand Mysor
adapted by Brian Stableford
cover by Phil Cohen
In order for your serfs to reach me, they will have to pass over the body of my protector, and he is strong enough to hold at bay the eunuchs and degenerates that populate your putrid City!
In The Murdered City (1925), Blasius, an unknown and mocked scholar, manages to create a philosopher's stone which transforms everything it touches into gold. This diabolical man acquires an island, gathers other unfortunate people, builds a fantastic city and reigns over it.

The Murdered City has affinities with accounts of island utopias gone wrong and doomed superscientific cities. Science enables the fulfillment of the ancient alchemical dream, but gold here functions as a symbol of modern civilization as an irresistible force of corruption.

A second novel included in this volume, By Wireless (1927), shares the speculative elements of the plot, the strange character of its disfigured protagonist, and the bizarrerie of his hopeless and fatal amorous obsession.

Fernand Mysor never achieved any great success and has been almost forgotten. A writer of such imaginative range deserves to be better known today, when more readers are capable of appreciating his exotic artistry and interested in discovering unusual themes and philosophical viewpoints.


Contents:
Introduction. 7
La Ville Assasinée (1925)
La Mort du Soleil. (1926)
Par TSF (1927)
Introduction and Notes by Brian Stableford.