The Mutilated Bacchus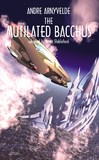 NOTE: YOU ARE PURCHASING AN E-BOOK, NOT A PAPER BOOK. WHEN ORDERING, PLEASE SPECIFY IN THE COMMENTS IF YOU PREFER A PDF OR AN EPUB FILE. THE FILE WILL BE E-MAILED TO YOU AS SOON AS PAYMENT IS RECEIVED.


THE MUTILATED BACCHUS
by Arnyvelde
adapted by Brian Stableford
cover by Jean-Felix Lyon

I no longer have the time to forge human beings.

In The Mutilated Bacchus (1922), a young genius, severely mutilated after a plane crash, still manages through sheer willpower to turn his home valley into an Eden-like utopia dedicated to the search for Joy; but a twist of fate will lead to a cruel end, full of disillusionment.

The Strange Tournament of Love (1924) is a bittersweet chronicle of the manner in which André Arnyvelde escaped his once-cherished enslavement by the idea of Joy, by recasting the traditional fantasy tale of a competition between suitors to determine who will win the hand of a particularly desirable bride.
Contents:
Introduction and Notes by Brian Stableford
THE MUTILATED BACCHUS [Le Bacchus Mutilé] (1922)
MAN WANTED or, THE STRANGE TOURNAMENT OF LOVE [On Demande un Homme] (1924)