The Naiads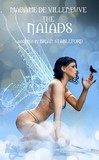 NOTE: YOU ARE PURCHASING AN E-BOOK, NOT A PAPER BOOK. WHEN ORDERING, PLEASE SPECIFY IN THE COMMENTS IF YOU PREFER A PDF OR AN EPUB FILE. THE FILE WILL BE E-MAILED TO YOU AS SOON AS PAYMENT IS RECEIVED.


THE NAIADS
by Madame Gabrielle-Suzanne Barbot de Villeneuve
adapted by Brian Stableford
cover by Nathalie Lial

The Naiads, published 100 years after Madame Gabrielle-Suzanne Barbot de Villeneuve's death, is one of the earliest fantasy novels by the author of The Beauty and the Beast. It is set in a distant past in a fictitious realm with a religion based on elemental spirits. While it uses the stock motifs of the fairy tale, featuring a Prince Perfect who falls in love with a shepherdess, unaware that she is really a Princess, as well as a wicked stepmother and an ugly sister bent on persecuting the beleaguered heroine, it also looks behind those motifs and provide them with elaborate explanatory schemas, such as the strange story of the Mill of Misfortune and the revelation of the Prince's true identity by the Gnome Queen.


Contents:
Les Nayades (posth. 1865)
Introduction, Afterword and Notes by Brian Stableford.