Napoleon's Vampire Hunters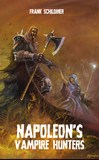 NOTE: YOU ARE PURCHASING AN E-BOOK, NOT A PAPER BOOK. WHEN ORDERING, PLEASE SPECIFY IN THE COMMENTS IF YOU PREFER A PDF OR AN EPUB FILE. THE FILE WILL BE E-MAILED TO YOU AS SOON AS PAYMENT IS RECEIVED.


NAPOLEON'S VAMPIRE HUNTERS
by Frank Schildiner
cover by Mariusz Gandzel
"A loup-garou possesses very little self-control. The Seine would be choked with bodies if he didn't. But these werewolves, when controlled, will feast sparingly. However, very few beings possess the power necessary to control a rampaging beast like a loup-garou..."
November 1804: Napoleon Bonaparte is mere weeks away from being crowned Emperor, when a great evil from his past returns to Paris. The leader of France knows he is engaged in a race against time. To fail would cause the whole of Europe to fall into darkness. To defeat this fearsome threat, Napoleon calls upon the one man who defeated it before, his former fencing teacher, swordmaster Jean-Pierre Séverin, now director of the Paris Morgue; for only he, and a strange exorcist named Karnstein, stand a chance against an ancient fiend and his unholy beasts...

Swordmaster and vampire-hunter Jean-Pierre Séverin is the hero of legendary French author Paul Féval's seminal horror novel, THE VAMPIRE COUNTESS, written forty years before DRACULA.. He returns in this historical fright fest by the author of THE QUEST OF FRANKENSTEIN.