Kobor Tigan't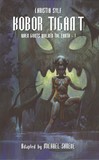 KOBOR TIGAN'T (WHEN GIANTS WALKED THE EARTH - 1)
by Christia Sylf
Adapted by Michael Shreve
cover: Mike Hoffman
US$ 24.95 / GBP 22.99
6x9 tpb, 300 pages
ISBN-13: 978-1-64932-225-8
Thirty thousand years ago, in Kobor Tigan't, the five-tiered city of the Giants...

It is the reign absolute of the matriarchy: at the top is Abim, the Very Huge, Mistress of the Underworld; Queen Opak the progenitrix ensures by her fecundity the survival of the race; on every level, women choose the men with whom they mate. But the race of the Giants is dying through decadence and boredom; and is threatened with extinction. Who then will save it? Is it To, Princess Ta's One Man, who is already different from the others? Or the Beautiful Being who comes from elsewhere?

Kobor Tigan't – When Giants Walked the Earth – was initially published in France by Robert Laffont in 1969. Its author, Christia Sylf (1924-1980), who has often been compared to Edgar Cayce, was a major French fantasy writer whose life was sadly cut short before she could complete her life's work.

Of this strange fantasy novel, so extraordinary that it defies all comparisons, best-selling author Robert Charroux wrote: "It is an erotic and marvelous fantasy, barbaric and sumptuous, telling us of the Giants who walked the Earth during her infancy, chronicling a world revealed to Sylf by supranormal privilege. It bears the mark of the highest initiation. It is a masterful work per excellence both in terms of its style and the transcendence of its inspiration."
Contents:
Introduction by Jean-Marc Lofficier
Kobor Tigan't (1969)