The Katrina Protocol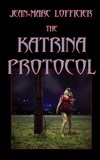 THE KATRINA PROTOCOL
(A Club Van Helsing Adventure)
by J-M. & Randy Lofficier
Foreword by Xavier Mauméjean
cover by Hardtone

The dead of Katrina had become a macabre army reanimated by Baron Samedi, the God of Death and Pestilence, set in motion at the behest of Legendre, the cursed houngan, and were marching towards the house of Marie Laveau...

US$19.95/GBP 12.99
5x8 tpb, 200 pages
ISBN-10: 1-934543-40-3
ISBN-13: 978-1-934543-40-5

August 2005. As Hurricane Katrina is preparing to strike New Orleans, Hugo Van Helsing, the modern-day descendent of that notorious family, has come to the Big Easy to investigate the mysterious death of his uncle. From the French Quarter to St Louis Cemetery No.1, from the Garden District to Bayou St. John, Hugo must untangle a frightening conspiracy that binds together the murky world of Voodoo and that of corrupt politicians.

Club Van Helsing is a shared universe imprint created by Xavier Mauméjean & Guillaume Lebeau featuring the modern-day battles of Hugo Van Helsing and his allies against a variety of supernatural threats.

The original edition of this novel was published in France in February 2008 under the title Crépuscule Vaudou. Copyright © 2008 Baleine, an imprint of La Martinière Groupe.
Contents:
- Foreword by Xavier Mauméjean
- The Katrina Protocol (Crépuscule Vaudou) (2008) by Jean-Marc Lofficier adapted by Jean-Marc & Randy Lofficier
- The Lying Dutchmen by Jean-Marc Lofficier
- The Clay Dog by Jean-Marc & Randy Lofficier
- Women, Fools and Serpents by Jean-Marc & Randy Lofficier
- Sacred Monster by Jean-Marc & Randy Lofficier
- Don't Throw Granny to the Xhlingniarph by Jean-Marc & Randy Lofficier
READ THE REVIEWS...
A great horror novel in the tradition of Graham Masterton, with a touch of Poppy Z. Brite and Ann Rice. Charlotte Bousquet.