The Shadow of Judex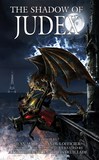 THE SHADOW OF JUDEX
edited by J-M. & R. Lofficier
based on the character created by by Arthur Bernède & Louis Feuillade
cover by Genkis & Sev
JUDEX! He whose name means "Judge"! Created in 1917 by writer Arthur Bernède and filmmaker Louis Feuillade, Judex is the first of the dark knights, predating both The Shadow and Batman. To avenge the death of his father, young Jacques de Trémeuse has put on the dark hat and cloak of Judex and embarks on a secret war to mercilessly punish criminals.

This collection of 26 stories, 16 of which were written especially for this volume, by 15 of the best pulp writers from Australia, England, France and the United States, pay homage to this milestone of popular fiction.

In it, Judex meets such icons as the Frankenstein Monster, Dracula and the Werewolf of Paris, crosses paths with France's premier super-hero the Nyctalope, survives the bloody trenches of World War I and the perils of Occupied Vichy France, remaining always faithful to his noble ideals, the very embodiment of Justice.

US$24.95/GBP 16.99
6x9 tpb, 364 p.
ISBN-13: 978-1-61227-178-1

Contents:
Introduction
Rick Lai: Acolytes of the Shadows (Previously published in Shadows of the Opera)
Matthew Dennion: The Quality of Vengeance
Emmanuel Gorlier: Judex ab Chaos
Matthew Baugh: Mask of the Monster (Previously published in Tales of the Shadowmen N°1)
Jean-Marc Lofficier: Lost and Found (Previously published in Tales of the Shadowmen N°2)
Robert L. Robinson, Jr.: Two Hunters (Previously published in Tales of the Shadowmen N°3)
Matthew Baugh: The Gargoyles of Notre-Dame
Chris Roberson: Penumbra (Previously published in Tales of the Shadowmen N°1)
Matthew Baugh: What Rough Beast (Previously published in Tales of the Shadowmen N°7)
Christofer Nigro: Justice and Power (Previously published in Night of the Nyctalope)
Christofer Nigro: The Beast Within
Thom Brannan & Matthew Baugh: Every Rose
Christofer Nigro: The Ultimate Prize
Vincent Jounieaux: The Dreadful Conspiracy
Nicholas Boving: The Talisman
Matthew Dennion: Training Day
Dennis E. Power: The Judex Codex
Christofer Nigro: Eye of the Tiger-Man
Rick Lai: Judex Rules
John Gallagher: Judex vs. Belphegor (Previously published in Tales of the Shadowmen N°8)
Romain d'Huissier: A Ticket for Thule
J.-M. & Randy Lofficier: The Affair of the Necklace Revisited (Previously published in Tales of the Shadowmen N°8)
David McDonald: Shadows from the East
Travis Hiltz: Ilsa's Crossing
Matthew Dennion: Faces of Fear (Previously published in Tales of the Shadowmen N°7)
Jean-Marc Lofficier: The Earth abideth forever