Tales of the Shadowmen 15: Trompe l'Oeil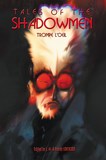 TALES OF THE SHADOWMEN 15: TROMPE L'OEIL
edited by J-M. & R. Lofficier
cover by Stephan Martiniere

US$23.95/GBP 14.99 - 6x9 tpb, 300 p. - ISBN-13: 978-1-61227-813-1
Daniel Alhadeff: The Vertigo (starring Isidore Beautrelet)
Matthew Baugh: High Noon of the Living Dead (starring Jed Puma)
Adam Mudman Bezecny: Bug's Life (starring Spiridon)
Thierry Bosch: A Waltz in Norbury (Starring Professor Challenger)
Matthew Dennion: The Crater of the Dead (starring Professor Quanter, Jaydee)
David Friend: Doctor Omega and the Future Museum (starring Doctor Omega)
Brian Gallagher: The Skull of Boris Liatoukine (starring Captain Vampire)
Martin Gately: Rouletabille in the House of Despair (1) (starring Rouletabille)
Travis Hiltz: The Robots of Valencia (starring Rotwang, the Timeslip Troopers, the Wandering Jew)
Paul Hugli: Night of the Craven Raven (starring the Nyctalope, Edgar Poe, Henry West)
Gulzar Joby: Science outraged, Science murdered! (starring Ganimard)
Vincent Jounieaux: The Necropolis of Silence. (starring Indiana Jones, Bob Morane)
Jean-Guillaume Lanuque: Lucretius' Maze (starring Titus Crow, Setni)
Nigel Malcolm: Enemies of the People (starring The Nyctalope, Judex)
Christofer Nigro: The Anti-Adonis Alliance (starring Felifax, Judex, The Phantom of the Opera)
John Peel: The Gutter God (starring Carnacki, The Vampires)
Frank Schildiner: Irma Vep and the Cottage of Doom (starring Irma Vep)
Michel Stephan: Madame Atomos Likes Her Music (starring Madame Atomos)
David L. Vineyard: The Theft of the Golden Asp (starring Arsene Lupin, Fu Manchu)
Jean-Marc Lofficier: Bertie of the Jungle (starring Bertie Wooster)
Credits
Trompe l'Oeil! To cheat the eye! To concoct the perfect illusion! To deceive, lie and dissemble! What better way to encapsulate the myriad of tricks employed the villains to gain the upper hand on the heroes? But do the latter always fall victim to such cunning snares? Not so -- as illustrated in the twenty stories collected in this volume!

Doctor Omega faces his deadliest arch-enemy in a strange museum… Professor Challenger attempts a bold physics experiment… The Nyctalope and Judex unite to fights a fascist regime… Arsene Lupin faces the Devil Doctor… Irma Vep attempts a very risky robbery… Rotwang's robots invade 14th century Spain… Spiridon the Giant Ant investigates a sinister plot… Edgar Poe is snartched from his time by the Philadelphia Experiment…


In this fifteenth volume of Tales of the Shadowmen, the only anthology dedicated to international heroes and villains of pulp literature, writers from England, France, Switzerland and the United States unite to pay homage to those great champions and master criminals who enchanted our adolescence.