Tales of the Shadowmen 16: Voir Dire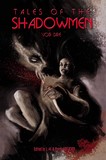 TALES OF THE SHADOWMEN 16: VOIR DIRE
edited by J-M. & R. Lofficier
cover by Daniele Serra

US$22.95/GBP 18.99- 6x9 tpb, 280 p. - ISBN-13: 978-1-61227-910-7
Foreword: The True History of the Black Coats by Jean-Marc Lofficier
Matthew Baugh: The Peculiar Cats of the Sea of Dreams (starring Madame Palmyre, Randolph Carter)
Nathan Cabaniss: Rage of Terror (starring Fantômas)
Matthew Dennion: Dwelling in the Dark (starring The Black Coats, Darkman)
Brian Gallagher: The Vampire Candidate (starring Captain Vampire)
Martin Gately: Rouletabille and the House of Despair (2: The Yellow Terror) (starring Rouletabille, Harry Dickson)
Joseph Gibson: The Other Vampires of Paris (starring Fantômas, The Domino Lady, The Falcon)
Travis Hiltz: A Pirate's Life For Me (starring Dr Eric Palmer, Captain Nemo)
Jean-Pierre Laigle: Mobilis in Vacuo (starring Captain Nemo)
Jean-Marc Lofficier: The Legacy of Atlantis (starring Count Saint-Germain)
Nigel Malcolm: Useful Idiot (starring The Nyctalope, Sexton Blake, Gouroull)
Xavier Mauméjean: The Replacement (starring Bruce Wayne)
Christofer Nigro: Clash of the Jungle Lords (starring Felifax, Mowgli)
John Peel: The Eye of the Hawk (starring Doc Ardan, Jane Greystoke, Biggles)
Frank Schildiner: Vampire Diplomacy (starring Jean-Pierre Séverin, Lestat de Lioncourt)
David L. Vineyard: The Stone of Solomon (starring Arsène Lupin, John Silence, Duke de Richleau)
Credits.
Index of Authors (TOTS 1-16)
Index of Stories (TOTS 1-16)
Voir Dire! Verum Dicere... To speak the truth... Now referring to the cunning probing to which jurors and experts are subject during a trial in order to force them to disclose any bias or explain their background -- here, illustrated by fifteen stories in which some of the bravest heroes and most despicable villains are tested to their limits by friends and foes alike!

The Domino Lady faces Fantômas--twice! Felifax crosses paths with Mowgli... Madame Palmyre encounters Randolph Carter in Celephaïs... Count Saint-Germain investigates the Legacy of Atlantis... Captain Vampire runs to become President of Russia... Joseph Rouletabille and Harry Dickson team up in London... Jean-Pierre Séverin the Vampire Hunter is sent on a mission to New Orleans... Doctor Eric Palmer investigates a murder at a pirates' gathering... All this, plus Arsène Lupin, Doc Ardan, Doctor Omega, the Nyctalope and the ever-dangerous Black Coats!

In this sixteenth volume of Tales of the Shadowmen, the only anthology dedicated to international heroes and villains of pulp literature, writers from England, France and the United States unite to pay homage to those great champions and master criminals who enchanted our adolescence.