Tales of the Shadowmen 18: Eminences Grises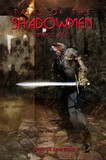 TALES OF THE SHADOWMEN 18: EMINENCES GRISES
edited by J-M. & R. Lofficier
cover by Juan Miguel Aguilera

US$22.95/GBP 18.99 - 6x9 tpb. - 272 p. - ISBN-13: 978-1-64932-103-9
Introduction by Frank Schildiner
Tim Newton Anderson: Thirty Pieces of Gold
Matthew Baugh: The Long Game
Atom Mudman Bezecny: The Devil Times Phibes.
Matthew Dennion: The Gift That Kept On Taking
Brian Gallagher: The Telepath of Galicia
Martin Gately: Young Robur Over Africa.
Travis Hiltz: The Case of Where Does The Time Go?
Matthew Ilseman: Unknowable Powers
Rick Lai: The Prisoner of Countess Cagliostro.
Jean-Marc Lofficier: The Taste of Death.
Randy Lofficier: Angel and Hopkirk (Deceased)..
Rod McFadyen: Empire Rising.
Christofer Nigro: Three the Hardened Way
John Peel: Undying Love
Frank Schildiner: The Specter of Fantômas
Nathalie Vidalinc: The Music Box
David L. Vineyard: The Gilded Bird
Credits


Eminences Grises! The secret and powerful decision-makers who operate behind the scenesm are featured here in seventeen stories in which some of the strangest and most mysterious heroes and villains of popular fiction spin their deadly webs of intrigue and play chess with the lives of men and monsters!

Countess Cagliostro seeks to steal a strange music box from Felifax; Fantômas outwits SPECTRE; Doctor Cornelius undertakes a deadly mission in war-torn Europe; Fascinax matches wits with the abominable Dr. Phibes; Madame Atmos challenges the might of other would-be world conquerors; the enchanting Madame Palmyre goes toe to toe with the Queen of Atlantis; young Robur battles the Red Baron in the skies over Africa; all this plus the Phantom Angel, the Thing from Another World, Nikita, the Phantom of the Opera, Ebenezer Scrooge and Voltaire's Candide!

In this eighteenth volume of Tales of the Shadowmen, the only anthology dedicated to international heroes and villains of pulp literature, writers from England, Canada, France and the United States unite to pay homage to those great champions and master criminals who enchanted our adolescence.