Tales of the Shadowmen 17: Noblesse Oblige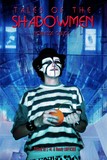 TALES OF THE SHADOWMEN 17: NOBLESSE OBLIGE
edited by J-M. & R. Lofficier
cover by Mandy

US$22.95/GBP 18.99 - 6x9 tpb, 260 p. - ISBN-13: 978-1-64932-024-7
Matthew Baugh: The Cubic Displacement of the Soul
Atom Mudman Bezecny: Walking on Foreign Ground, Like a Shadow
Nathan Cabaniss: Master of the Six-Gun
Matthew Dennion: Doctor's Note
Brian Gallagher: The Doctor of Sarajevo
Martin Gately: The Woodlanders in the Desert
Travis Hiltz: These are the Voyages...
Randy Lofficier: The Phantom Angel and the Dwarves of Death
Nigel Malcolm: Traitor to the People
Roy McFadyen: The World Will Belong to us
Christofer Nigro: Wrath of the Cat People
John Peel: The Child That Time Forgot
Frank Schildiner: Only One...
David L. Vineyard: The Dufort Cameo


Noblesse Oblige! Privilege entails responsibility, and requires a person who holds an elevated status fulfills certain responsibilities -- an attitude illustrated here by fourteen stories in which some of the bravest heroes of popular fiction display their true nobility by acting beyond reproach!

The Phantom Angel must find out who killed one of the Seven Dwarves... Arsène Lupin borrows a page from Maigret to uinmask a villain... Doctor Omega ponders over the schemes of Professor Moriarty... Felifax crosses path with Doctor Moreau... Young Robur learns how to become a Conqueror in the Old West... Doctor Cornelius returns in Sarajevo... The Nyctalope starts a revolution to overthrow a future dictatorship... And Fantômas finally meets his match... All this, plus Judex, Irene Adler, Doctor Jekyll, the Timeslip Troopers, the Sea Hawk and the ever-monstrous Skull Island!

In this seventeenth volume of Tales of the Shadowmen, the only anthology dedicated to international heroes and villains of pulp literature, writers from England, France and the United States unite to pay homage to those great champions and master criminals who enchanted our adolescence.