The Land of Everlasting Gloom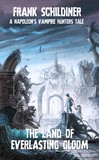 THE LAND OF EVERLASTING GLOOM - A NAPOLEON'S VAMPIRE HUNTERS TALE
by Frank Schildiner
cover by Mariusz Gandzel

"Vampire, you forget where we are heading," she said. "This is Selene, the Vampire City, the Sepulchre and the Scholomance! Sanity has no place in such a location!"
US$ 24.95 /GBP 20.99
5x8 tpb, 322 pages
ISBN-13: 978-1-61227-975-6

Paris 1806: The terrible Ange and Jean Tenebre are back in Paris, on a rampage of blood and terror through the streets of Napoleonic France. The undead brothers, ghoul and vampire, are following the commands of Strix, a Satanic witch whose evil actions nearly brought down the Sun King, Louis XIV, decades earlier.


Pitted against these ancient monsters are swordmaster and vampire hunter, Jean-Pierre Séverin, the Exorcist Baron Franz Karnstein, the lovely swordswoman Sylvia Dardi, and a Thugee priestess from India, who has her own, secret agenda. Together, they must stop Strix and the Tenebre Brothers before they can reach the unfathomable, terrifying land known as Selene, the Vampire City...
Frank Schildiner is the author of the NAPOLEON'S VAMPIRE HUNTERS series, three FRANKENSTEIN novels, IRMA VEP AND THE GREAT BRAIN OF MARS, and is a regular contributor to the popular TALES OF THE SHADOWMEN series. This novel, like its two predecessors, draws from characters created by legendary French author Paul Féval.