Bob Lance #3: The Ghost of Rasputin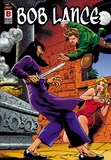 BOB LANCE by Pier Carpi & Luciano Bernasconi, cover by Roberto Castro.

Story: During an unexpected stop in a lonely village, Guinevere comes face to face with the ghost of Rasputin. The mad monk seeks the return of a mysterious cross, which may be the path to immortality. Will Bob Lance succeed in unmasking the shadowy forces lurking behind the vengeful wraith?

7x10 squarebound comic, 54 pages b&w
ISBN-13: 978-1-61227-395-2 - US$12.95 / GBP 6.99
Published in association with J. Todd Harris Co.